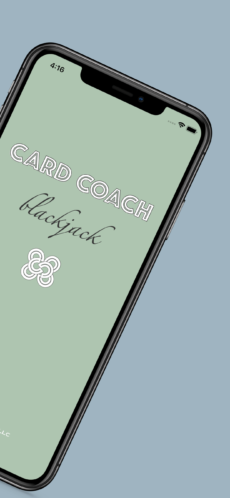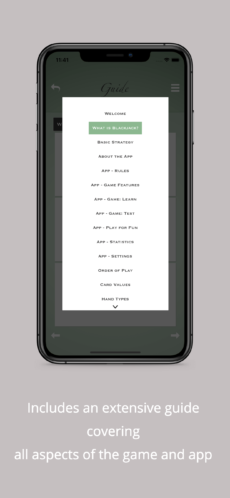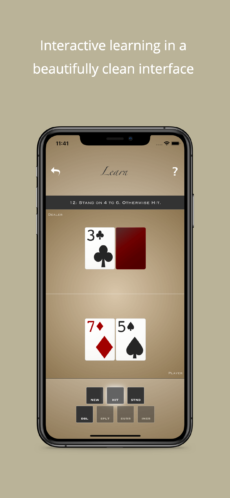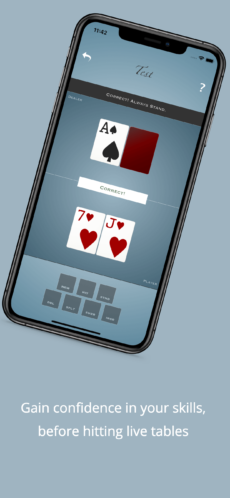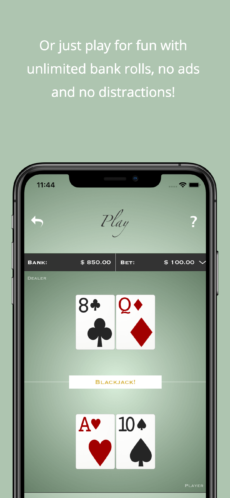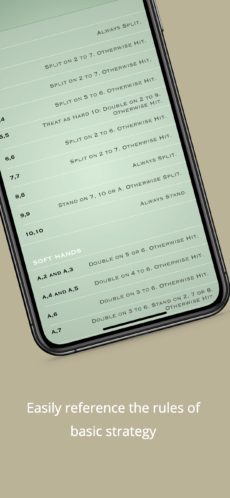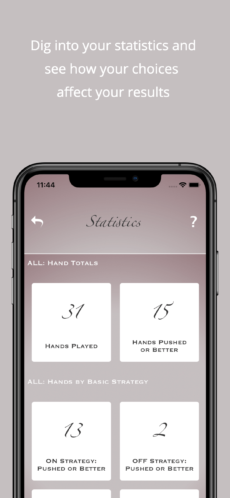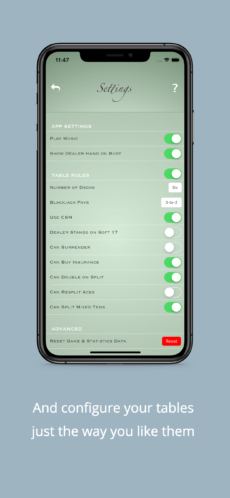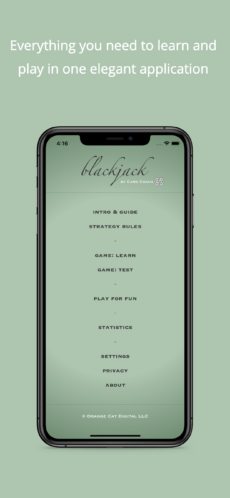 Card Coach was conceived to help us study and practice our favorite card games. We wanted to learn and play without the distractions of flashy apps, or the constant need to pay more for tokens, tickets or chips. The first app to be created in this series is Blackjack by Card Coach, a brand new way to learn and play. Our goals were simple:
Teach blackjack and the rules of basic strategy
Provide a no-nonsense, free blackjack game
Provide feedback and insight through gameplay statistics

Blackjack by Card Coach is broken up into clear sections to help you focus your learning and enjoy the game:
Intro & Guide – including everything from basic game rules to advanced tips and tricks, to what to look for in a live casino blackjack table.
Strategy Rules – begin to learn (or refresh your memory!) about basic strategy – the series of computationally generated rules optimized to help lower the house odds against you in blackjack – with easy to remember, bullet point style one-liners.
Game: Learn – this learning mode is cleanly laid out to display player and dealer hands, whilst directing you to the correct action for each turn of your hand, along with a reminder of the relevant rule to help you memorize.
Game: Test – similar to learning mode, this game instead responds to each of your actions to confirm whether or not you selected correctly per basic strategy.
Play for fun – this game mode provides you with a bank roll and variable betting options. No learning or testing here, just some good, fun card play!
Statistics – view key game and test result data to see how things are really going. This page will provide you with many game insights including how many correct answers you made in Test mode, how much money you won in Play mode, and how following (or ignoring) basic strategy may have impacted your results.
Settings – alongside basic configuration, this page allows those of you already experienced in blackjack to alter the app wide table settings in order to learn, test and play against the dealer in your preferred real world situations. The app supports many different configurations, including different numbers of decks, whether or not the dealer must stand on Soft 17, use of a Continuous Shuffling Machine and much more. 
Here at Orange Cat Digital LLC we pride ourselves on simplicity and security. As such this apps does not contain ads, nor require a user account, nor record personal information, nor connect externally in any way at all. It is private, secure and anonymous. Our apps can be enjoyed both online and offline with complete peace of mind and the same great user experience, which is something we love!